Who do you know that DOES NOT have a smartphone? I bet that list is less than 10 people. I don't think I could even name one person!
That means statistically speaking... EVERYONE has a smartphone. 😜 86% of the population to be exact (Pew Research).
As a business owner, you are likely marketing through social media, email, networking and other channels. Only 55% of businesses are using texting to market, communication, or engage their customers. And the open rate of a text message is 98% in comparison to email at 20% (FinanceOnline).
So, why aren't you using text marketing?
Let's dig into what text marketing is, best practices, statistics, and best platforms.
What Is Text Marketing?
Text marketing is when you send bulk text messages to your contacts using SMS sent directly to their cell phone. Texting is another channel to market to your mailing list and usually is coordinated with your email and social media marketing campaigns.
Text marketing includes sending reminders, notifications, invitations to events, sales, offers, contests, etc.
Why use Text Marketing?
The fact is that your prospect or client probably prefers to receive updates from you in a text message. Texting has a higher read or open rate, higher click-through rate, and much higher engagement. Simply put, your message has a higher chance or getting through to your buyer than any other channel. I wouldn't over use it, but I would include it in your marketing strategy.

Text Marketing Statistics
Let's look at some statistics about the effectiveness of text marketing. The first being texting is the #1 smart phone activity!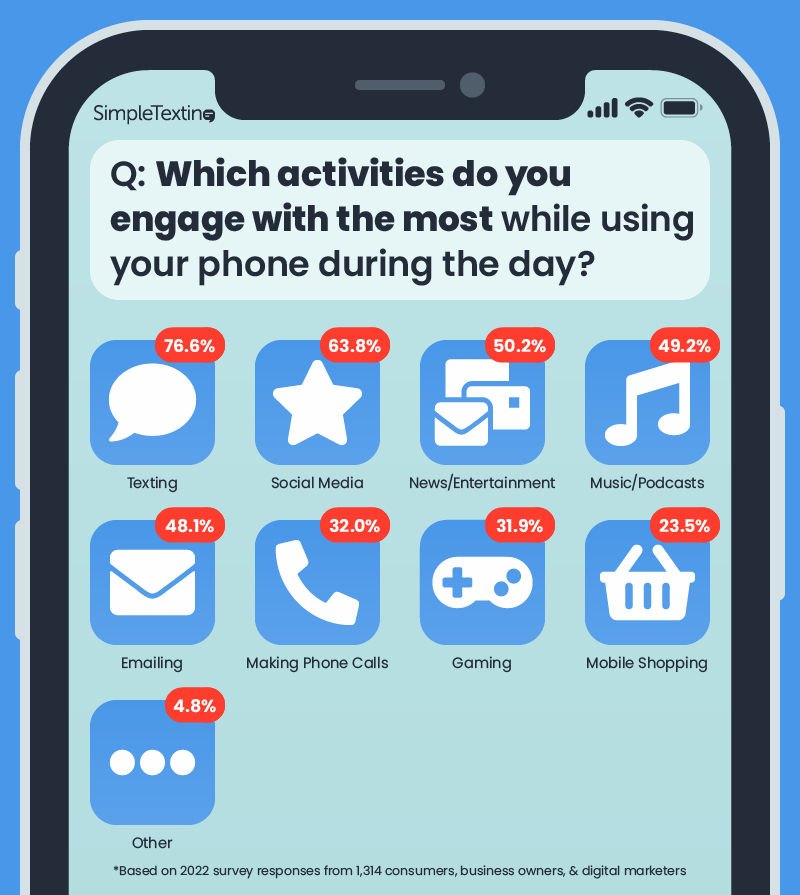 96% of adults in the US own a "cell-phone" of some kind. But 15% of the American population does not have an internet connection via a smartphone and has access only to basic SMS services. That's roughly 52.5 million Americans that can only be reached by text messaging. (Apofonica, 2019)

SMS marketing has an average open rate of 82%. (Shift)

In contrast, email only has a 20% open rate but 49.7% spam. (Voicesage)

It takes just 90 seconds for the average person to respond to a text message. (Voicesage)

While only 20% of people answer calls they don't expect, texts are read in 5 seconds on average. (Text Request, 2016)

There is a 45% response rate for SMS messages compared to just 8% for email. Interaction is also much higher, with a click-through rate of 36% for SMS and a mere 3.4% for email. (SMS Global, 2021)

Another source puts the response rate for email at just 6%. If SMS is at 45%, then that would mean a staggering 750% response rate over email. In other words, when promos and offers are sent via SMS, they are much likely to be opened, responded to, and lead to sales. (ClickSend, 2019)

More recent studies show that 6 in 10 consumers answer texts from businesses within 5 minutes of receiving it. (SimpleTexting, 2020)

In addition, 95% of text messages are opened and responded to within three minutes of being delivered. (SMS Comparison, 2021)

Using branded links or vanity URLs in SMS marketing campaigns can increase brand visibility and boost CTRs by up to 39%. (Zipwhip, 2019)

21% of businesses target loyal customers via SMS rewards. (Access Development, 2016)

77% of consumers are likely to have a positive perception of a company that offers texting. (Mobile Marketing Watch, 2016)

Sending business appointment reminders to customers through SMS reduced missed appointments by 26%. (Aviaro, 2018)
Is Text Marketing Legal?
It is legal to use text marketing. In the US, the Federal Communications Commission (FCC) regulates SMS marketing. It does this primarily through 2 laws:
Telephone Consumer Protection Act (TCPA) of 1991: This act regulates telemarketing by restricting businesses from contacting consumers without prior consent. The TCPA, updated in 2013, now includes SMS marketing. Its number one requirement is that businesses must ask consumers for permission, in writing, to send them commercial text messages. Under the TCPA, businesses must also inform consumers of how often they'll receive text messages, give notice of potential carrier costs and fees, and provide consumers with the means to opt out of SMS communications.

Controlling the Assault of Non-Solicited Pornography and Marketing Act (CAN-SPAM) of 2003: This act supplements the TCPA to regulate email spam. It bans false or misleading header information and prohibits deceptive subject lines. While its focus is on email, CAN-SPAM can apply to SMS sent via internet-to-phone SMS technology.
Right now, if you send text messages through an application to one or many people at a time, you must register your texting campaigns. This inform carriers of your intent and legitimacy as a business. It also ensures your messages are delivered in a more timely basis. This is call Application-to-Person or A2P messaging using a 10 Digit Long Code or 10DLC. You will see it referred to as A2P 10DLC.
To be compliant is simple. Register your business, your messaging campaign, and ensure you offer both and opt-in and opt-out process.
Text Marketing Best Practices
Follow these simple and courteous best practice to stay both compliant and considerate.
Get Permission Before Your Text - With text marketing, you do need to ask for permission. When you request cell phone numbers include a message stating how you intend to text them. With your first text message you could also double opt them into receiving further messages from you.

Brevity Always Wins - Keep your text messages short, to the point, and engaging. When you need to share additional information, Include links for them to learn more. Remember, you are paying for the length of the text.

Identify Yourself - Personally, I hate it when I receive a text from a business that doesn't include their business name or why they are texting. Always identify yourself using your name and business name. Recommend they save the number to their contacts, if you plan to text regularly for customer support.

Instruct How To Opt-Out - When you are using an application to send text messages, you need to include instructions for how to opt-out with your messages. This is similar to the Footer in your emails with an Unsubscribe link. You don't need to be wordy. It can be as simple as "To no longer receive text messages from us, respond STOP."

Time Your Messages Appropriately - Most people sleep with their phones near their bed. That means you need to be aware of when your text messages will arrive. Be aware of the time zones of your contacts and ensure you are texting during an appropriate hour.
Best Text Marketing Platforms
The Work Smarter CRM includes both a business phone line and 2-way texting functionality. Our pricing is almost wholesale. We charge a small monthly fee for the phone line plus your usage. Most of our clients pay less than $10 per month for their texting needs. We can automate your messaging in marketing campaigns, client communications, appointments, and more.
If you are looking for just a texting solution and don't see an all-in-one business solution, below are some of the best texting platforms to get started.
Textedly

EZTexting

Simple Texting
---
Work Smarter Digital is an all-in-one CRM software for solopreneurs and small business owners. It serves as a one-stop-shop for client management and marketing, with functionality for invoicing, booking, social media scheduling, email drip campaigns, automated workflows, and much more. In addition to the software, Work Smarter Digital also offers Done-With-You services to provide users with added support and optimization for their growing businesses. Want to get the full picture? See our
Schedule a call to learn more.