Are your dreams big enough?
Are your goals crazy big or achievable and mediocre?
I recently read The 10X Rule: The Only Difference Between Success and Failure by Grant Cardone and realized I wasn't dreaming BIG ENOUGH about my business. By keeping my goals "doable", I was limiting my progress.
I needed to dream beyond what I could achieve in the near future and start envisioning big hairy audacious goals that I might never achieve, but the journey would be worth it.
That got me thinking about what is a bucket list and its value to my business.
What is a bucket list?
A bucket list is a list of the experiences or achievements that a person hopes to have or accomplish during their lifetime. A bucket list is an itemized list of goals people want to accomplish before they "kick the bucket" — or die. (As defined by Stanford University Medical)
The focus of a bucket list is to live a life with hopes and aspirations. Making a bucket list allows us to reflect on our values and goals, and identify important milestones and experiences that we want to have in our lifetime.
Why a Business Bucket List?
Owning a business is on many people's bucket list, but not many actually take the plunge. Once you do take the plunge and start a business, you are sooo busy serving clients, administrative tasks, and closing new sales, you don't have TIME to really consider your business goals. As business owners, we need to have hopes and dreams related to our business. Those big goals help us make decisions, take risks, and strive to do more.
Because I wasn't clear on my goals, I was allowing myself to play small. My question is ... why not have a business bucket list?!?!
"Only those who will risk going too far can possibly find out how far one can go."

– Unknown
Mary Sue's Business Bucket List
That's how I came up with my business bucket list. Some of the items really scare me and that is exactly what it should do! What's amazing is that I've already completed a couple.
Publish a business book - DONE!!! I wrote and published The Boutique Effect in 2021.

1000 clients on the Work Smarter CRM - IN PROGRESS!!

10,000 email subscribers

Sell my business and retire IN STYLE

Acquire another business

Annual CEO Retreats with CEOs that inspire me - DONE!! I've gone on two CEO Retreats with amazing women CEOs. We started in 2022 and will be continuing.

$50k in monthly revenue - IN PROGRESS!!

Win an industry award

Nominated for my local Best Of list

6-figure annual revenue - DONE!! Hit it and working to double in 2023.

Adopt a cause and sponsor a fund raising event

Fully fund my business 401K every year - IN PROGRESS!!

Hit $500k in annual revenue - IN PROGRESS!!

Be the CRM of choice for Business Coaches and Consultants - IN PROGRESS!!

Publish my 2nd business book - IN PROGRESS!!

$100k in monthly revenue

7-figure annual revenue

40% profit margin - IN PROGRESS!!

One viral social media post!

Hire a marketing team to completely take over all my business marketing

Sell a digital product that makes 5-figures every month

Give a Ted Talk that gets 1 million views

Work aborad for a year with my husband

Attend Strategic Business Planning Retreat - IN PROGRESS!!

Support women in business - IN PROGRESS!!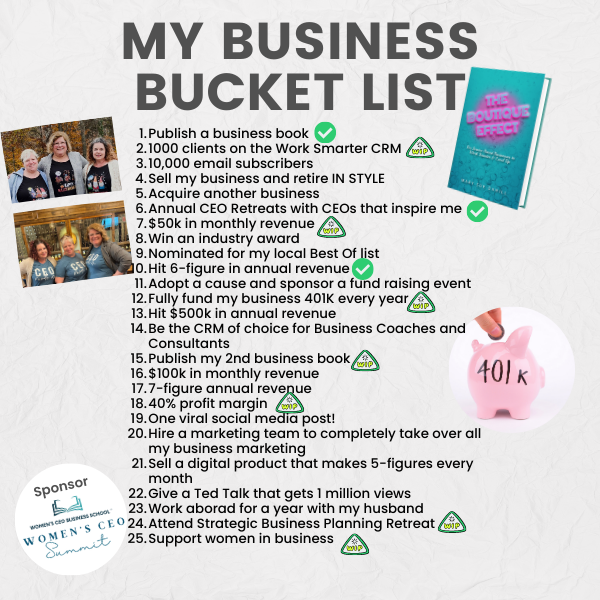 Need Support?
An interesting thing happens when you create a business bucket list!! The big goals don't look so big, so you start to see what you need to work on to make it happen.
As you start working on achieving your business bucket list, you discover you need help, that's part of the process. Find it! We are here to help you with automating your sales and marketing systems. There are lots of great business coaches, marketing experts, and staffing agencies to help you with whatever support you need.
Let me know when you check something off your business bucket list!!
Invitation
If attending an strategic business retreat, I invite you to the Sales UpRising Strategic Business Planning Retreat happening in Charleston, SC in early November. I am attending this year in-person and attended previousl virtual events.
I attended last year's one day virtual planning, which was awesome. I walked away with a business plan for the year. Goals are a type of bucket list!
This will be my first time attending this in-person event. Registration is currently 50% off with code UPRISING23.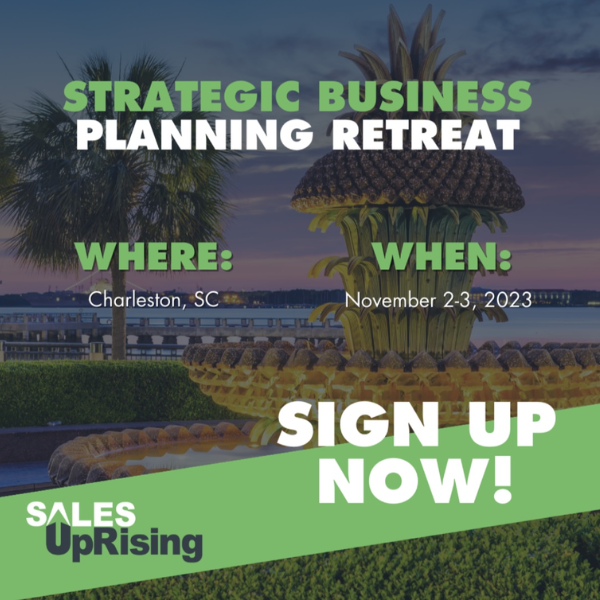 What does all this have to do with your CRM?
EVERYTHING!!
As the CEO, you need to have clear direction and strategies to reach your goals. With those, your CRM and automation will help you reach your big goals. Without a plan, your systems won't help you that much.
Make a business bucket list.
Attend the Strategic Business Planning Retreat.
Then implement your systems to support your goals. It is really that easy.
---
Work Smarter Digital is an all-in-one CRM software for business coaches and consultants. It serves as a one-stop-shop for client management and marketing, with functionality for invoicing, booking, social media scheduling, email drip campaigns, automated workflows, and much more. In addition to the software, Work Smarter Digital also offers Done-With-You services to provide users with added support and optimization for their growing businesses. Want to get the full picture? See our comparison chart here.
Schedule a complimentary strategy session to learn more.