"CRM isn't rocket science but it can make you a competitive superstar." - Unknown
Sales are the lifeblood of any business. Building a powerful sales pipeline is essential to the growth and success no matter the size.
Your sales pipeline is a valuable view into upcoming sales so you can plan and forecast more accurately.
In this blog, you will learn how to chart out your sales pipeline stages to get the best results.
What is a Sales Pipeline?
A sales pipeline is a visual representation of sales prospects and where they are in the purchasing process. The three jobs of your sales pipeline are:
Tracking prospects in your sales process

Sales tasks to move conversations forward

Forecast of your future sales
The main purpose of your sales pipeline is to help you convert prospects into customers by providing your visibility into your prospect and sales tasks.
Before getting started with building your sales pipeline, you need to identify your ideal client and defined sales process.
What's the difference between a Lead vs Prospect?
These terms are used interchangeably, but are they really the same. Honestly, it depends on how you think of your sales process. My recommendation is to differentiate the terms.
Contact - A person that has joined your mailing list. They filled out an opt-in form of some kind.

Lead - A person that has shown more interest in your services by registering for a workshop, downloading multiple lead magnets, or clicking your CTAs.

Prospect - A person that has signaled they are interested in becoming a client by scheduling a discovery call, filled out an application, or qualified in some other way.
This is important to define for yourself when you start adding automation into your sales process.
Know Your Ideal Clients
The first step in building a powerful sales pipeline is to identify your ideal client profile. You can do this by analyzing your existing customer data to determine which clients have the have the most success with your services, sees your value, and the highest conversion rate.
This is a critical step, so work with an expert. My recommendation is Katie Nelson, founder of Sales UpRising. She helps business owners get clear on their ideal client, niche, and over all sales process. She hosts awesome workshops throughout the year. Her next one is Show Me The Money!
REGISTER for Show Me The Money
Once you have a handle on your ideal client and know your sales process, you can setup your sales pipeline and start converting more clients.
CRM is essential to managing your Sales Pipeline
With a CRM (Customer Relationship Management) system, you can easily manage your sales pipeline and increase your chances of success. Not only will your be able to easily track your progress and see where each lead is in the sales pipeline, you will identify any bottlenecks or areas where you may need to focus your efforts to move leads to the next stage.
You will need a CRM with more than just a contact list. You will want a Sales Pipeline feature to specifically track your leads and prospects.
This is an example of a sales pipeline in the Work Smarter CRM. The steps in the sales process are defined and opportunities represent the prospects in each stage.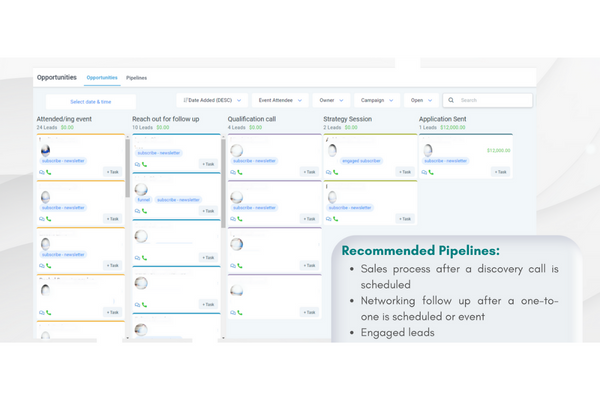 Three things a CRM Sales Pipeline can do that your sticky notes cannot do:
Auto-generate leads based on what CTAs they click

Notifications to follow-up based on your preferences

Access to prospect contact information, activities, conversation history, and notes
Let's look at how to build your sales pipeline in a CRM.
How to Build a Sales Pipeline
Step 1: Define your sales process
The first step to building a powerful sales pipeline is to define your sales stages. These stages represent the steps a lead goes through from initial contact to becoming a client. It's important to define these stages as they help you understand where your leads are in the sales process and what actions need to be taken to move them to the next stage.
If you are just starting out, keep it simple and manual at first. Add more steps and automate activities after you get a handle of your process.
A few examples of sales processes I've seen with my clients:
Basis Sales Process:
Scheduled Discovery Call

Sent Proposal

Follow Up

Signed Agreement

Client!!
Workshop Sales Process
Registered

Attended

Did Not Attend

Follow Up

Scheduled Discovery Call

Signed Agreement

Client!!
Step 2: Define your sales activity for each stage
This is about being intentional with your sales process and bringing clarity to a process that may feel overwhelming.
With a CRM, you can easily create and track these tasks with each prospect.
Step 3: Identify contacts that fit your ideal client criteria
Create opportunities in your sales pipeline for each of the contacts in your sales process. Put them into the stage where they are currently. Clarify the sales tasks your have for each process and set due dates.
When you use a CRM, you will be prompted to take the next action with a prospect. This makes is much easier to focus your attention and engage in conversations that convert.
Step 4: Qualify your prospects
Once you start using a sales pipeline, you will need to qualify which contacts and leads are potential ideal clients or prospects. Everyone you meet or opts into your mailing list are not ideal clients. There are many ways to qualify, here are a few my clients use regularly:
Filling out an application and meeting the criteria

Registering for a workshop

Indicating they have a specific challenge
This doesn't have to be complicated, but you do need a way to filter your leads to focus your attention.
Step 5: Manage your sales pipeline
To build a powerful sales pipeline, you need to track your sales activities. This includes everything from phone calls and emails to meetings and proposals. By tracking your sales activities in your CRM, you can identify patterns in your sales process and make data-driven decisions to improve your performance. The Work Smarter CRM automates a lot of this tracking for you, so you can focus on adding notes and strategizing on next steps.
If you take one thing away from this blog, don't put your sales pipeline on autopilot. Schedule time to add contacts to your pipeline, take next steps, and move conversations forward. My personal approach is to start my day with reviewing my outreach for the day and updating my pipeline.
Step 6: Review your sales data
The final step in building a powerful sales pipeline is to analyze your sales data. By analyzing your sales data, you can identify areas for improvement in your sales process and make data-driven decisions to improve your performance. For example, if you notice that your sales cycle is taking longer than average, you might want to review your sales process and identify ways to streamline it.
Your CRM can provide you with valuable insights into your sales performance, including your conversion rate, average deal size, and sales cycle length.
We've created a great resource to help you effectively fill and manage your sales pipeline. Download the Ultimate Guide to Fill Your Pipeline.

---
Work Smarter Digital is an all-in-one CRM software for solopreneurs and small business owners. It serves as a one-stop-shop for client management and marketing, with functionality for invoicing, booking, social media scheduling, email drip campaigns, automated workflows, and much more. In addition to the software, Work Smarter Digital also offers Done-With-You services to provide users with added support and optimization for their growing businesses. Want to get the full picture? See our comparison chart here.
Schedule a complimentary strategy session to learn more.