What are the most successful coaches doing different? How are using the Work Smarter CRM differently to other coaches? What are their secrets to success?
That's what I asked myself, so I decided to analyze a few key metrics across all of my clients to gain some insights. What I found was very interesting!
The most successful coaches on average 10X their activity in growing their audience, building relationships, nurturing leads, and learning about their connections.

~ Work Smarter Digital
Their specific marketing strategies didn't matter. It only mattered the activity it generated. You will learn what activities to focus on to generate more sales in your coaching practice. The secret is consistent effort in growing your audience, building relationships, nurturing leads, and learning about your connections.
In this blog, I will share how I evaluated the data, insights from this analysis, and recommendations to being a successful coach.
Where It All Began
At the beginning of 2023, I was thinking about how Work Smarter Digital impacts our clients. What are the key metrics of success for our clients. We sell a system that keeps track of all sorts of data points, so what story does that data tell?
The software I sell also came out with new agency reporting that allowed me to evaluate the data across many accounts. At first, I was looking at how much activity is occurring in the various data elements then I started looking at the average across accounts. That gave me the idea to identify the most successful accounts and compare their activity to the rest of the accounts.
Which Accounts Were Included In The Data?
My focus was on coaches and consultants, since that makes up 60% of my client base and my ideal client. I removed accounts that didn't fall into that category because they operate differently. Then I only included accounts that have been a client for more than 3 months. Within the first 3 months, clients are still getting their systems built out and hitting their stride within the Work Smarter CRM.
How Did I Determine "Successful Accounts?"
I work with my clients fairly closely meeting with them a minimum of quarterly, but likely more often. This gives me insight into which clients are onboarding clients regularly and which are struggling. I based "successful accounts" on clients that are onboarding clients regularly and hitting their business goals.
My analysis did not include revenue.
The Four Key Performance Indicators
When selecting the key performance indicators, I was evaluating which indicators are independent of a particular marketing strategy and indicative of activities that generate sales for coaches and consultants. For comparison the key performance indicators for ecommerce or home services businesses would be related to website visits and SEO metrics. For coaches and consultants, it is more about the personal connections, word of mouth, and community awareness of what they do.
I landed on these four key performance indicators: number of appointments scheduled, number of new contacts added to an account, number of emails sent out, and number of form submissions as the key performance indicators.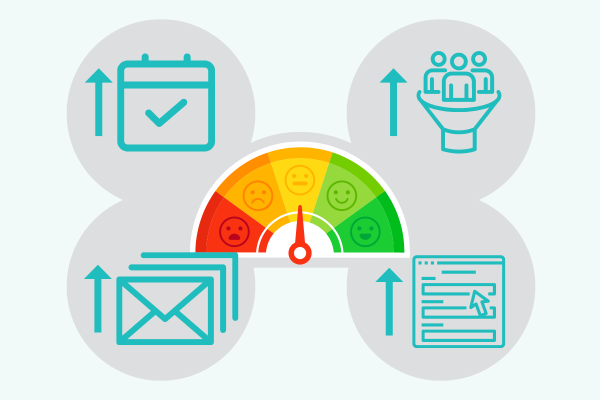 Appointments Scheduled - This demonstrates the business owner is connecting with people for networking, collaboration, sales, or client delivery purposes.

New Contacts - This demonstrates the business owner has a lead generation strategy that is working.

Emails Sent - This demonstrates the business owner is actively nurturing their contacts and staying top of mind. The size of the contact list is a consideration, but it is more about the volume of email sends.

Form Submissions - This demonstrates the business owner is actively collecting data about their leads. They are focusing on really getting to know them.
These indicators are not dependent on the type of marketing a business is going or tactics they are using. It is all about the activity being generated from their marketing.
Let's take a look at my insights from this analysis.
Insights From My Analysis
I decided to evaluate the top 25% versa the average of all other coaches. I based the percentiles off of the number of new contacts because that is the biggest indicator of a healthy business. If your mailing list is stale, your business is stale. What I found is that on average, top 25% coaches are on average 10 times more active in the key performance indicators.
The biggest area of difference is the volume of emails being sent out on a monthly basis. The Top Coaches are consistently and regularly communicating with their mailing list. They know that nurturing your mailing list is a way to build trust and future clients. It is also the best way to serve and have an impact on your community.
Nurturing your mailing list is the most important indicator of successful with top coaches.

~ Mary Sue Dahill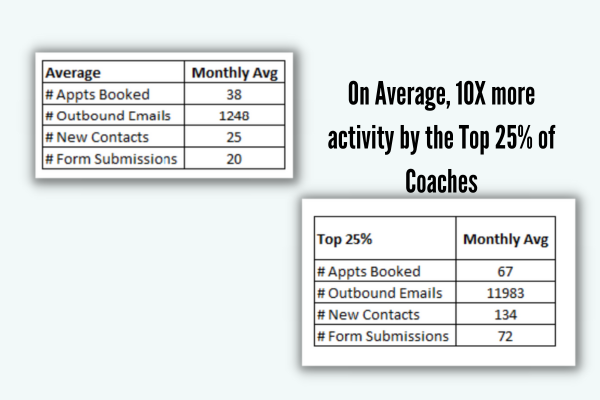 Top Coaches focus on their lead generation. They know that maintaining a healthy mailing list by continually growing their mailing list is important. They know that a stale list is a business that is slowing down in sales. We all know that sales is a numbers game. If you don't have enough leads coming in, you will not have enough new sales to hit your goals. Lead generation is important to a successful coaching practice.
Scheduling meetings for networking, sales, and client conversations are all on the agenda for top coaches. They couple this with learning about who they are meeting with through the thoughtful questions they ask and capture in their CRM with forms and surveys.
Top coaches follow a simple strategy...
Lead Generation + Nurturing + Relationship Building = Success
Focus on these fundamental principles and you will convert more leads into coaching clients.
CRM & Coaching Success
When you increase your effort by 10X, you will need systems to support you. The top coaches use their CRM to automation communications, track conversations, track activities, and remind them of follow up tasks.
CRM stands for "customer relationship management" and is the secret sauce to most coaching practices success. A CRM will help you...
Keep track of your clients, manage their data, and build relationships with them

Automate processes and streamline communication

Better understand your clients based on what information they engagement

Stay organized, so you can focus on what matters most—your coaching business!
By leveraging the power of a CRM, you can easily grow your business and reach more customers. If you're a coach looking to 10X your activity and grow your business, a CRM is a must-have.
DOWNLOAD OUR ULTIMATE GUIDE TO FILLING YOUR PIPELINE

---
Work Smarter Digital is an all-in-one CRM software for solopreneurs and small business owners. It serves as a one-stop-shop for client management and marketing, with functionality for invoicing, booking, social media scheduling, email drip campaigns, automated workflows, and much more. In addition to the software, Work Smarter Digital also offers Done-With-You services to provide users with added support and optimization for their growing businesses. Want to get the full picture? See our comparison chart here.
Schedule a complimentary strategy session to learn more.